A sofa or couch is a staple piece of furniture that can be found in many homes. It's really important to know what your needs are and to choose something that will last you for years to come. With so many options out there, it can be difficult to make a decision. This guide will show you the 20 different types of sofas and couches as well as their designs and benefits.
Sectional Sofa
A sectional sofa is a common type of sofa that is made up of sections that can be arranged in many different ways. This is an excellent choice for people with busy lives who like to be able to change the configuration of their furniture.
Sectional sofas are typically composed of three or more pieces that can be arranged in numerous configurations. They are usually larger than other types of sofas and this makes them great for families with different needs (young kids, older adults, etc.). Sectional sofas also come in all shapes and sizes ranging from couches to loveseats, armchairs, and corner lounges.

Image credit: Modsy Blog
Chesterfield
Chesterfield sofas are a classic design. The frame of a chesterfield sofa is typically made from wood and covered in leather, velvet, or faux leather. It features turned, carved legs and armrests which give the look of a true chesterfield. This style of sofa is said to have originated with Thomas Chippendale in the 18th century.
If you're looking for something that will last for years to come, the classic Chesterfield style might be just what you need.

Image Credit: Riverwalk Furniture
Lawson-style Sofa
The Lawson-style Couch is a popular choice because of its clean, minimalist design. Typically made from leather or velvet, the Lawson-style couch offers a sleek and sophisticated look to any room. Though it's stylish, this sofa can be tough to maintain. It may require professional cleaning every few months to keep the leather in good condition.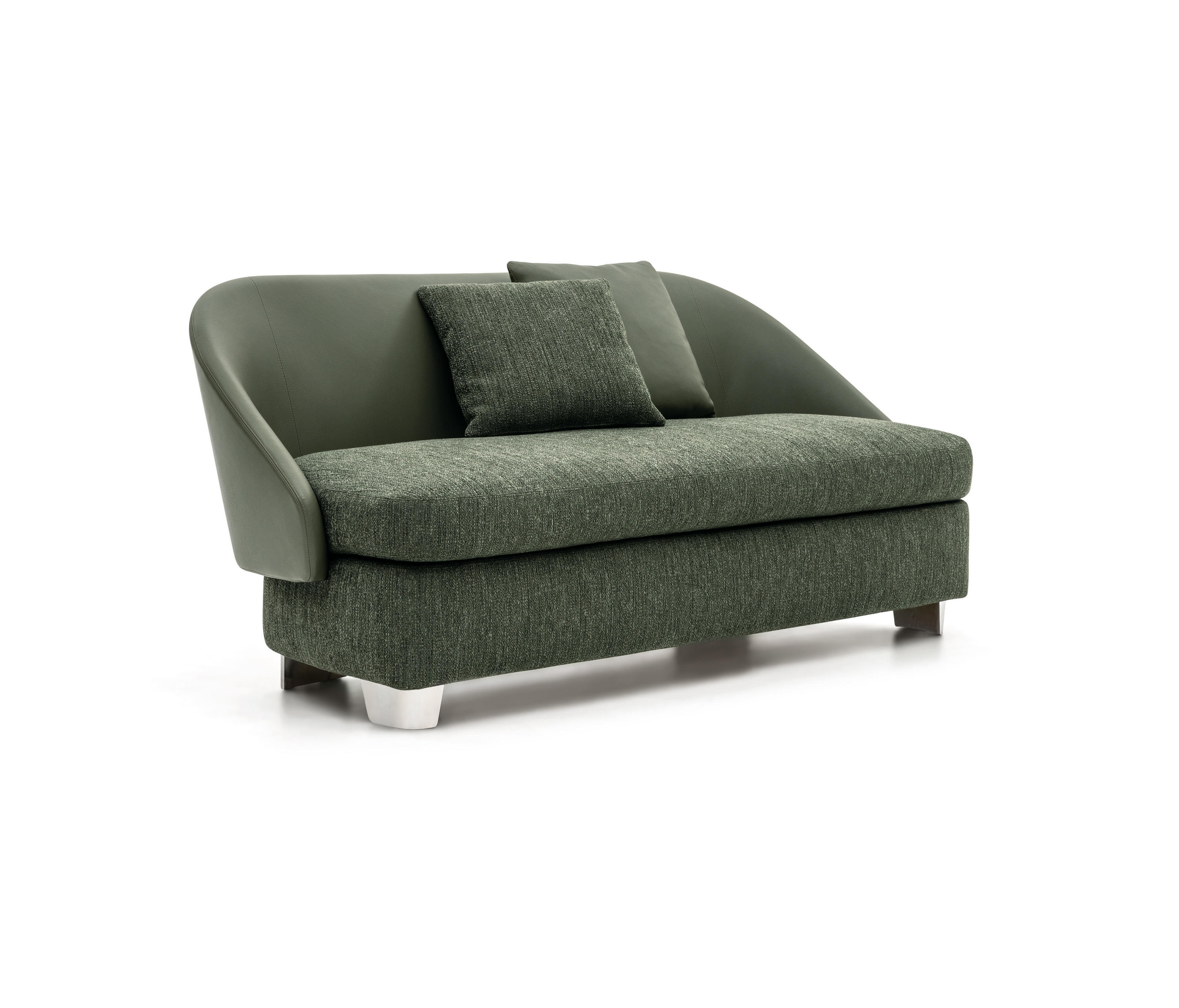 Image Credit: Architonic
Mid-century Modern
Mid-century Modern sofas are a popular choice for those looking for a modern contemporary style. These sofas have a simple design, with clean lines and balanced proportions. This look is very functional and comfortable.
Mid-century Modern sofas are great for those who don't want a bulky couch, as they can easily be moved around.
Image Credit: Mid-century Modern
Contemporary Sofa
If your style is more modern, the contemporary modern sofa is a great option. These sofas are typically made of higher quality materials and have a sleek, minimalistic design.

Image Credit: DFS Ireland
English Rolled Arm
An English rolled arm sofa is a type of couch with traditional, elegant lines. It's best suited for a formal living room or a home office. The back and arms are typically made from foam or wood.
The benefits of an English rolled arm sofa are that it provides a comfortable place to sit and read. Plus, it has the ability to suit any decor style because its design is so versatile.
The English rolled arm couch is a great choice for those who want to relax and curl up by a fireplace on Sunday mornings.

Image Credit: love my simple home
Bridgewater
The Bridgewater is a modern, clean-lined sofa. It's made from solid wood and features a semi-attached back cushion to provide more support. The Bridgewater is a great option for those who want a solid, long-lasting piece of furniture.
The Bridgewater has excellent durability as it is made from solid wood and does not have any loose parts or pieces that can be ripped off easily.
The Bridgewater has a simple design with no fuzz or unnecessary embellishments. It's a high-quality sofa with a sleek look that will work well in any home.
Image Credit: MyDomaine
Cabriole
This type of sofa is characterized by its gently curved legs, which are joined at the back. Originating in France, this style of the couch is popular for its formal look and curves.
The cabriole sofa is often used as a dining room or living room centerpiece. It's perfect for those who want something that will enhance their home's aesthetic.
Image Credit: Realtor
Cabrioles are typically made with three to four pieces, often with two to three seats per piece. The backs can be straight or very low, and the arms can be high or low depending on your needs. This style of the couch has a deep seat, which means you'll have plenty of room to stretch out on it!
While this type of sofa is perfect for formal settings, it may not be the best choice if you plan to use it daily due to its delicate build.
To be continued…